MD, CCFP (EM), DipPDerm, FCFP.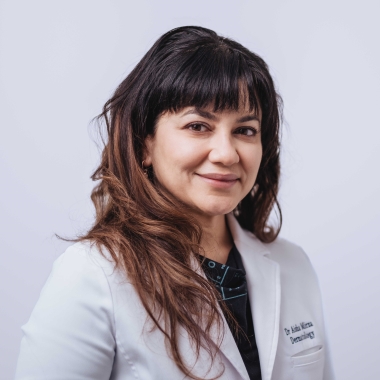 Dr. Aisha Mirza received her Bachelor of Science with Honors in Neuroscience at the University of Alberta in 1999 and then studied wound healing and scar formation at the Masters level. She received early acceptance into the University of Calgary medical school and graduated in 2003 with her Medical Doctorate. Dr Mirza completed her residency training in Family Medicine and Emergency Medicine at the University of Alberta in 2007. She has been recognized for her teaching abilities through the Excellence in Teaching (2004) award by medical students and the Ivan Steiner Award for Teaching Excellence (2014) by the emergency residents.
Dr. Mirza holds an appointment as Associate Clinical Professor at the University of Alberta. She has been a staff emergency physician at the Grey Nuns Hospital (Edmonton, Alberta) since 2008 and has practiced as an Associate of Dermatology since 2013. During her time as a staff physician Dr Mirza pursued further training in the fields of dermatology and ultrasound. In 2012, she achieved Master Instructor status from the Canadian Emergency Ultrasound Society (CEUS).
She pursued her passion in aesthetics and skin diseases by completing a Practical Diploma in Dermatology with Honors from Cardiff University in 2014. In 2015, she successfully completed laser safety and training for Fotona IncontiLase and IntimaLase Treatments for urinary stress incontinence. She has obtained further hands-on training in neuromodulator and dermal fillers with multiple certifications in this field. Dr Mirza is recognized for her precise attention to detail medical dermatology and cosmetics.
Dr. Mirza invites you to join her at Stratica Medical as she welcomes new patients and referrals. Dr. Mirza has a specialization in the treatment of skin, hair, and injectables.
Stratica Medical specializes in the following:
Medical Dermatology
Neuromodulators