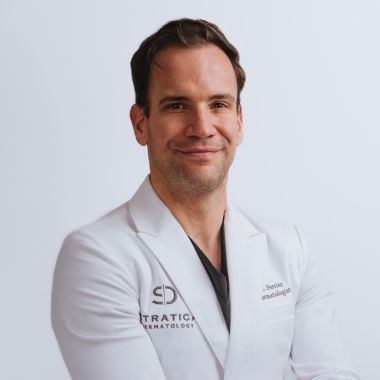 Dr. Andrew Ferrier is a double board-certified dermatologist that practices in Edmonton and the surrounding area.
Dr. Andrew Ferrier received his BA in Biology from Lake Forest College as an NCAA student-athlete, Dr. Ferrier completed his PhD and post-doctoral fellowship in Cellular and Molecular Medicine at the University of Ottawa where he published numerous manuscripts detailing the pathological mechanisms underlying neuromuscular disease. Following his PhD, he completed his medical degree at the Northern Ontario School of Medicine where he received the prestigious Canadian Medical Hall of Fame award. Dr. Andrew Ferrier went on to complete his dermatology residency at the University of Alberta.
Dr. Ferrier is passionate about medical, surgical dermatology, and clinical trials. Dr. Andrew Ferrier holds the position of Director of Clinical Trials with Stratica Dermatology and is enthusiastic about new leading edge medical advancements that help his patients. Curious about if you're a candidate for one of Stratica Dermatology's active trials? Send an email to eaubinferrier@straticamedical.ca to inquire. 
Outside of medicine, he enjoys sports, and spending time with his family and friends.