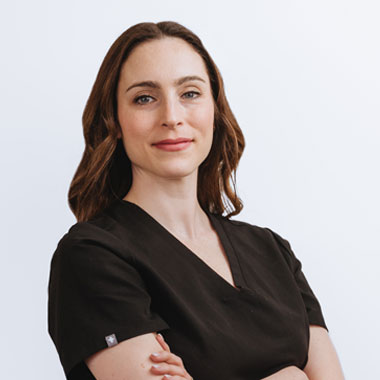 Eloïse Aubin-Ferrier, is a highly-skilled, bilingual nurse practitioner with a strong passion in dermatology and women's health. Working alongside Dr. Andrew Ferrier and serving as Stratica's Clinical Trials Manager, Eloise brings 13 years of nursing experience and is dedicated to providing exceptional patient care and enhancing patients' overall skin health.
Eloïse graduated as a Primary Health Care Nurse Practitioner with a Masters in Nursing from Laurentian University in 2016. Originally from Ontario, she practiced in a Community Health Centre serving the rural and underserved French population of Sudbury. Prior to becoming a nurse practitioner, Eloïse worked in the hospital setting, practicing in neonatal care, obstetrics, and palliative care. Since moving to Edmonton, she has worked in different healthcare facilities and settings including, home care, industrial sites/occupational health clinics, private primary care clinics, and telemedicine. She is also an assistant teaching professor in the faculty of nursing at the University of Alberta.
Eloïse's areas of expertise are:
Acne
Rosacea
Eczema
Psoriasis
Women's Health
My areas of interest in Women's Health include skin disease during pregnancy and lactation, hormonal therapies for conditions such as acne and alopecia, and hormonally driven conditions that are linked to dermatologic skin diseases such as polycystic ovarian syndrome. I am also dedicated to addressing gynecologic concerns such as vulvar skin disease and providing dermatologic care to transgender patients. With a patient-centered approach, I strive to provide compassionate and effective care to help my patients achieve optimal health outcomes. Eloise's patients appreciate her compassionate nature and her ability to communicate complex medical information in a way that is easy to understand.
In her free time, she enjoys discovering the newest coffee shops in the city, running and cycling with her Peloton app, and spending time with her family and friends. Her passion for dermatology and commitment to ongoing learning makes her an invaluable member of Stratica Dermatology.
Eloise Speaks: